Transformateur universel IP20 pour le conducteur d'alimentation d'énergie de l'adaptateur DC12V 200W de bande de LED, alimentation menée pour la lumière de bande de LED et le contrôleur de bande.

Led Strip Driver est un petit équipement électronique portable et alimentation électrique et électronique de l'équipement de conversion de puissance, généralement par le shell, le transformateur de puissance et le circuit redresseur, sa sortie peut être divisée en type de sortie AC et type de sortie DC.
Contrôleur de bande led Contrôleur associé: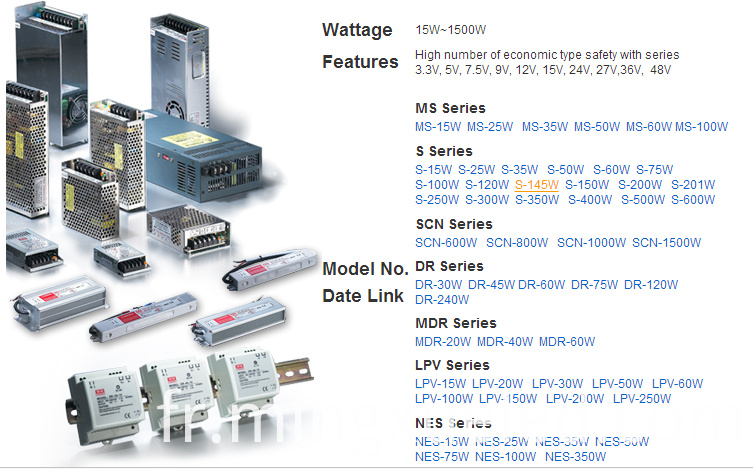 Spécification de 350w conduit lecteur de bande:
Model

S-25-5

S-25-12

S-25-15

S-25-24

Specification

DC output voltage

5V

12V

15V

24V

Output voltage error

±2%

±1%

±1%

±1%

Rated output current

5A

2.1A

1.7A

1.1A

Output current range

0-5A

0-2.1A

0-1.7A

0-1.1A

Wave and noise

50mVp-p

50mVp-p

75mVp-p

100mVp-p

Inlet stability

±0.5%

±0.5%

±0.3%

±0.2%

Load stability

±1%

±0.5%

±0.3%

±0.2%

DC output power

25W

25.2W

25.5W

26.4W

Efficiency

80%

83%

83%

85%

Adjustable range for DC voltage

±10%

±10%

±10%

±10%

AC input voltage range

85~132VAC/170~265VAC/47~63VAC,120~370VDC

Input current

0.6A/115V 0.35A/230V

AC impulse current

Cold-start current 15A/115V 30A/230V

Leakage current

<0.75mA/240VAC

Overload protection

105%~150% Type,PULSING HICCUP SHUTDOWN,Reset,auto recovery

Over-voltage protection

115%~135%

Temperature coefficient

±0.03%°C(0~50°C)

Setup rise hold up time

800ms,50ms,20ms/115VAC 300ms,50ms,80ms/230VAC

Vibration

10~500Hz,2G 10min./1cycle,Period for 60min,Each axes

Withstand voltage

I/P-O/P:2.5KVAC I/P-FG:2KVAC O/P-FG:0.5KVAC

Isolation resistance

I/P-O/P, I/P-FG, O/P-FG:100M Ohms/500VDC

Working temperature and humidity

-10°C~+60°C,20%~90%RH

Store temperature and humidity

-20°C~+85°C,10%~95RH

Overall dimension

98*97*35mm / 60pcs per carton

Weight

0.3Kgs

Safety standards

Desgin refer to UL1012,EN60950-1,EN61347-1,EN-61347-2 approved

EMC standards

EN55015,EN55022,EN55024,EN61000-2,EN61000-3,EN61547 approved
Photos pour le conducteur de bande mené par 200w: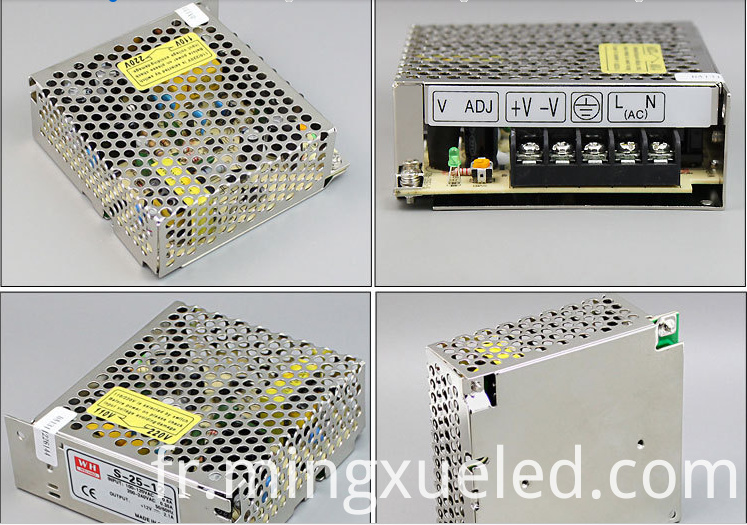 Emballage et livraison de 200w pilote de bande led: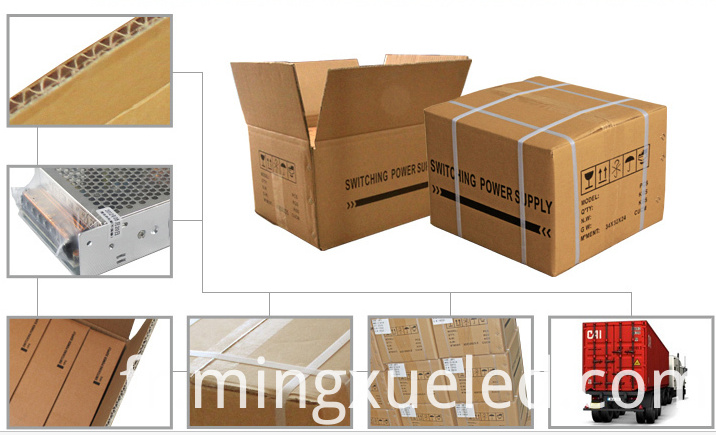 Livraison de conducteur de bande menée:
Un service:

Un service:
Nous nous consacrons à offrir une portion humanisée pour chaque client! Peu importe que l'entreprise soit grande ou petite, nous faisons toujours de notre mieux pour offrir nos meilleurs services à nos clients et nous développer ensemble.
1. Deux ans de garantie pour chaque alimentation à découpage d'article
2. inspection de contrôle de qualité stricte avant l'expédition
3. emballage blister antichoc et de haute qualité pour protéger l'article contre les dommages pendant l'expédition
4. OEM design et OEM emballage de bienvenue
5. Forte capacité de production
6. Top 5 des affaires électroniques mondiales d'Alibaba
7. Service en ligne, répondez-vous dans les 6 heures
8. La qualité est le coeur de notre usine et le service est l'âme!
Groupes de Produits : Strip LED Driver